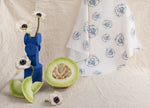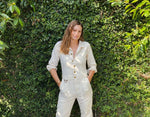 One day in 2012 when I was working in painting, printmaking and photography, I combined them all into what would become my first textile. I instantly fell in love with the process and history of printmaking. It was similar to my art practice, only with textiles, I found that I could bring joy to a broader audience. Joy that transforms houses into welcoming homes.   
As my business grows, I see people purchasing for themselves, but also as special treasures to give to friends and family. I love to create beautiful pieces that bring comfort and happiness. It is an honor to have my creations welcomed into people's most special places, helping others live more artfully and mindfully everyday.
While the Stevie Howell product range expands, our goal remains the same: To inspire beauty and authenticity in how people live. 
I hope you enjoy bringing our artful living home. 

XO Stevie
PROCESS