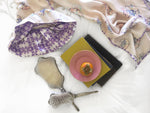 HANDMADE WITH HEART
Robe, wallpaper, or pillow, our pieces all begin as an original handmade print created by Stevie in our California studio.
First starting on paper, Stevie selects from her range of media and methods—pastels, gauche, watercolor pencils, collage, oil paints, marbling, charcoal—to complete each print. While her inspiration comes largely from nature, experimentation with materials and research also weave into her creative process.
We then search the globe for the best fabrics, materials, and manufacturing partners. Our fabrics are printed digitally, which captures the hand from the original art while being gentle on the environment.
Each print then travels to our manufacturing partners in the US, India, or Uruguay who help bring our products to life. Following a series of sampling and edits, our end product is born: Luxurious and beautiful items that brighten your day.