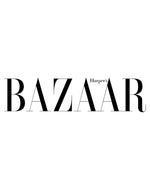 We're Obsessed: Robe Life
Stevie Howell is a San Francisco-based art school grad who fell into design almost by accident. What began with a line of silk, cashmere and modal scarves, now includes a full collection of silk robes, as well. "What interested me in textile design was not only that I could create art, but it's also a way to relate and interact with a broader audience," Howell explains of launching her business. "I credit my sister Lawren, who is a fashion editor, for actually putting the scarf idea in my head. On a visit to my studio, she saw the first print I ever made and was really enthusiastic about turning it into something wearable. So what started off as a simple birthday present idea turned into a ton research, experimentation, some business classes, a few collaborations, and then the launch..."
The robes are colorful, printed bits of luxury done up in silk that would make even the most minimal white room suddently feel like a sexy boudoir. Howell's inspiration is incredibly varied—such is the mind of an artist. "Really there is a huge range of objects, scenes and people that I find inspiring everyday," the designer explains, "Generally it's in art and nature. But it's also the coffee stain on my white shirt, a computer glitch, the nasturtiums that grow through the studio windows, a new pen, traveling, Instagram..." We have our eye on this charming ranunculus printed version—all the better to wrap yourself up in for summer...